TAH (Agri-glass used greenhouse)
特徴
● TAH which used Agri-glass(infrared cut filter) is a greenhouse that can be used widely such as R&D and production.
● Using Agri-glass on outer wall of greenhouse, can reduce running cost by suppressing air conditioning load in the summer.
● It is preparable that various size (from compact to large) and requirements.
● It is also preparable that non-closed and closed system of biohazard.
● Temperature, humidity, carbon dioxide concentration, and opening and closing of ceiling and windows, is automatically controlled by a computer.
● Light supplement, cultivation equipment, air conditioning system, a control device, etc. are designed and proposed for the intended use.
Features
 Greenhouse type
Large roof type

・Large roof type single-span greenhouse. It is best for small to medium sized facilities, and possible to make attached type.
・Agri-glass (3-5mm) is to transmit only necessary light for plant growth and can reduce running cost.
Venlo type

・Multi-span greenhouse which has a lot of results in Europe, is suitable for medium to large sized facilities because of high eave height and excellent light shaft.
・Robustness which can withstand 50m/s of wind speed is also included, and it is responded flexibly to facility expansion.
Construction example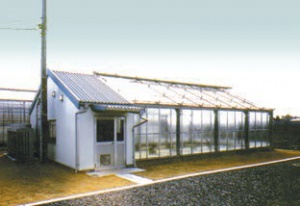 ダウンロード