TNR (Illuminated nursery shelf)
特徴
● It is an optimal illuminated nursery shelf for plant germination, nursery and incubation.
● Three wavelength of fluorescent lamp is included. It is also possible to increase light intensity and waterproof.
● In addition to the fluorescent lamp, CCFL and LED are also prepared.
● Depending on the application, it is also available in various sizes.
仕様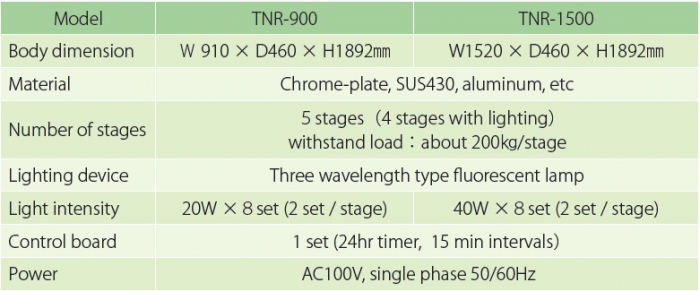 Features
○ Fluorescent lamp                ○ CCFL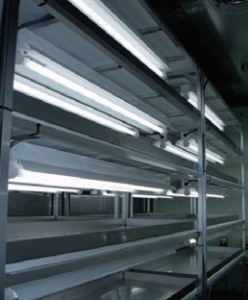 ○Multistage cultivation system
●It is a multistage type cultivation shelf for effectiveuse of space in plant factory for leafy vegetable.
○Cultivation shelf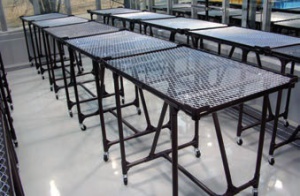 ● It is a flat type shelf for experiment in Phytotron, etc.
○Moving bench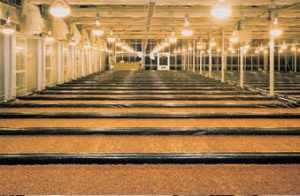 ● It is a moving bench powered by conveying function for maximum use of cultivation space.
● When needed, you can take them out arbitrarily.
○Rolling bench
● It can use space effectively with moving benches from side to side.
○Spacing system (column type)
● It is a column type hydroponics system by flowing the nutrient solution on the column.
● It is included that conveying system which increases the space between columns with plant growth.
○Hanging gutter
● It is a cultivation system hangig slab for the nutrient culture used rock wool.
ダウンロード